Clearing up Misunderstandings
Navigation:
Covenant vs. Testament
Being Like Jesus
Forgiveness of Sins
Sin Nature
Confession
Prayer/Fasting for Revival
Spiritual Covering
The Sovereignty of God
Tithing
Led by the Holy Spirit
What we say:
"That's [under the] old covenant"

"That's an old covenant mindset"
What people hear:
"Let's throw out and ignore the whole old testament"

"Let's just pick and chose what we want to listen to"
What we mean:
There is a clear difference (click the link) between the Old Covenant and the Old Testament. The Old Testament refers to 39 books of Hebrew literature, while the Old Covenant refers to Mosaic Law.
When we say something is "Old Covenant" we mean that a particular behavior or belief is inconsistent with how believers ought to behave/believe while living in the New Covenant. It doesn't mean that we ditch the Old Testament, it means that we need to learn to distinguish what is an Old Covenant principle and what is a New Covenant principle regardless of whether we are reading Deuteronomy or Isaiah.
God, who at various times and in various ways spoke in time past to the fathers by the prophets, has in these last days spoken to us by His Son, whom He has appointed heir of all things, through whom also He made the worlds; who being the brightness of His glory and the express image of His person… Hebrews 1:1-3
In times past, the prophets were the oracles of God, BUT in these last days, God is speaking loud and clear through His son. In the past, the prophets prophesied judgment on cities for sin, yet in these last days, Jesus loudly declares, "You do not know what manner of spirit you are of" (Luke 9:55).
Every revelation or understanding that you think you have about the character or nature of God that you do not see in the person, ministry, or life of Jesus, you have reason to question.
Here are some examples: Anointings and Mantles, "If my people", Generational Curses
back to the top
-

Being Like Jesus
What we say:
"You identify with Jesus, not John the Baptist, not Moses, David, Peter, Mary etc etc"

"You are to model your life after only Jesus, not any other character in the bible"
What people hear:
"Let's throw out the rest of the bible, since all of the other characters are irrelevant"
What we mean: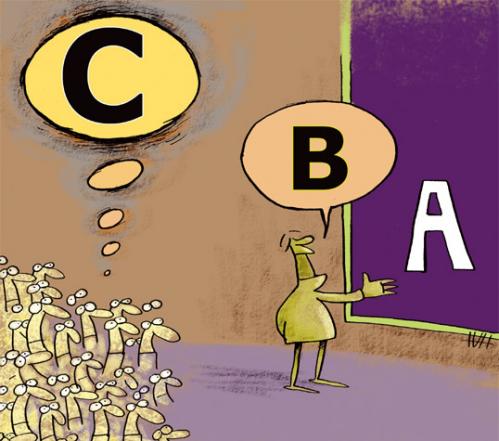 We are not at all saying you cannot learn from these other characters. We are saying your life should revolve around Christ. Every character in the bible has strengths that are reflected in the life of Christ, but you've gone too far when you start thinking, "Oh I'm supposed to be like Deborah, or David, or Joseph, or Esther." No! You are to be like Jesus!
Again. There is plenty to learn from all these figures in the bible, but our identity isn't rooted in any other than Christ. No other biblical figure was perfect, and no other biblical figure are we commanded to walk like (1 John 2:6).
back to the top
-

Forgiveness of Sins
What we say:
"Jesus paid the price for ALL sin, past present and future" (1 John 2:2)

"God is not counting sins against people" (2 Cor 5:17)
What people hear:
"Everyone is saved"

"There is no more judgment for sin"

"You're giving people a license to sin"
What we mean:
Jesus did pay the price for ALL sin. That is the grace he provided. We are not saying everyone is saved, because it is clear that you must put faith in that grace to be saved (Eph 2:8). All we are saying is that all grace has been provided.
We are not saying there is no more judgment, because it is clear that there is a day of judgment (John 12:48, Romans 2:5, Matthew 10:14-15, Jude 1:6, Acts 17:31). But NOW is the day of favor (2 Cor 6:1-3), there is good will toward men (Luke 2:10-14)! If we are to follow Jesus, then we ought to follow the example he laid in John 8:11, "Neither do I condemn you, go and sin no more."
To say that God is judging a nation for its sin [before the day of judgment] is to say that what Jesus did on the cross is not enough. Jesus blood covered ALL sin, he took all judgment and became a curse for us (Gal 3:13). That is called the good news, and it is His kindness that leads to repentance (Romans 2:4).
Yes. There is absolute grace to those who sin. His grace is sufficient for past, present, and future sin. The logical conclusion in the carnal mind will take that as a license to sin. But that is precisely what Paul was addressing in Romans 5:20-Romans 6:14. People who continue in sin and abuse grace have not "reckoned" themselves dead (Rom 6:11) and therefore, they do not experience freedom from sin (Romans 6:6-7).
back to the top
-

Sin Nature
What we say:
"Your sin nature is dead."

"Your nature is to be righteous. You are now prone to righteousness in Christ"

"You're a saint, not a sinner"

"You are no longer a slave to sin"
What people hear:
"Christians can't sin and never sin"

"Christians are perfect"
What we mean:
When one is born again, they are born of the Spirit, they become new creations (2 Corinthians 5:17) and they become the righteousness of God in Christ (2 Corinthians 5:21). They become free from the slavery of sin (Romans 6:6-7) and they are empowered to choose to live righteously (Galatians 5:13) no longer walking in their old desires (Romans 6:12, Galatians 5:24, Ephesians 5:8).
This is completely contrary to what is taught in church circles — that Christians are still prone to sin, they are helpless to sin, their nature to sin is still something that needs to be fought… that's religious trash that has not set anyone free to live in holiness and righteousness (Luke 1:75).
Christians have a new nature of righteousness. They are now dead to sin and alive to Christ (Romans 6:2-13, Romans 8:10, Ephesians 2:1), now prone to righteousness. Christians do not lose their ability to sin, they lose their ability to enjoy and stay in sin. Because of the liberty given to us, Christians can choose to sin even though it is not their nature to (Adam did this in the garden). That's why IF (not when) we sin, we have an Advocate with the Father (1 John 2:1-2).
back to the top
-

Confession
What we say:
"You don't need to confess every sin to be forgiven."
What people hear:
"There is no good in confession."

"Never confess your sins"
What we mean:
We are not saying confession is bad or that you should avoid it. We are saying you don't confess to be forgiven. You are already forgiven in Christ (Col 2:13; 1 John 2:2, 12; Heb 10:12) and there is no amount of confession that will get you forgiven.
Yes there is freedom and reconciliation in confessing our shortcomings to one another (James 5:16). But there is no need for the Christian to keep on confessing sins to maintain God's forgiveness. You don't need to work for something that you already have!
–> Read more here.
back to the top
-

Prayer/Fasting For Revival
What we say:
"Jesus never demonstrated extensive prayer/fasting as a prerequisite for revival."

"Stop praying for revival"

"You don't need to gather thousands together in order to pray/fast for revival"

"Jesus stood in the gap, He is the only mediator"
What people hear:
"There is no need to pray or intercede"

"Don't pray, prayer is not necessary."

"You don't need God, you are fully self-sufficient."

"Fasting is pointless"
What we mean:
This is the bottom line: Don't ask God to do what He told us to do. In this context, God doesn't need to "send revival", because He told you to be revival. Immediately after Jesus said, "pray to the Lord of the harvest to send out laborers," he sent out his 12 disciples in answer to the prayer, he didn't call a revival prayer/fasting meeting (Luke 10:1-3)
There is a generation crying out for more of God but don't realize they already have all of Him, while there is another generation who are starving for God yet don't know how to find Him.
Most of the revivals people are crying for will happen when believers set captives free (Luke 4:18), when they loose the bonds of wickedness (Isaiah 58:6-7), when they destroy the works of the devil (1 John 3:8), and when they demonstrate God's kindness (which leads to repentance; Romans 2:4).
We are not against a lifestyle of prayer — we are told to pray unceasingly — but there is a difference between "prayer" as in fellowshipping/communing with God and "prayer" as in begging and crying out for God to do what He has already done (pour out spirit) or what He has told us to do (heal the sick, set captives free, be salt, be light).
We are not against prayer, we are against using prayer in the wrong way, praying according to traditions, and praying "dumb" things in general. Pray, just don't be asking God to do what He told you to do, or ask Him to do what he already has done.
We are not against fasting, we are against fasting to manipulate God to do something. Fasting doesn't move God, fasting is a tool to get rid of unbelief and can help sharpen your spiritual senses. Fasting doesn't get you more power, but it helps you be a better conduit of power.
back to the top
-

Spiritual Covering
What we say:
"You don't need a spiritual covering to authorize you to do what God has already authorized"

"Obey God rather than man"
What people hear:
"Be rebellious to people in authority"

"Anyone in leadership positions is bad, to be avoided"

"You don't need accountability, avoid relationships with people who have wisdom"

"Pastors, fathers, leaders are bad"
What we mean:
If you have leaders above you that will not "release" you to do ministry (Luke 4:18, Matthew 28:18-20, Mark 16:15-20) for whatever reason, that is when you should obey God rather than man. It is God who made us adequate ministers of the New Covenant (2 Cor 3:4-6), not a training class at church.
By all means, surround yourself with leaders and brothers/sisters who have wisdom, but the things you do as a believer are not by the authorization a church or church leader, it is by God (Mark 11:27-33).
By all means, be accountable to those around you, but to say you have accountability with a leader that you talk to once or twice a week for five minutes and who doesn't have a consistent relationship with you is ludicrous. (Read more here)
It is the mindset that you need to clear it with pastor so-and-so before you go and heal the sick or go on a mission trip etc that we are against. Jesus is the captain of your faith, not your pastor. He is the head of the body.
–> Read more here
back to the top
-

The Sovereignty of God
What we say:
"God is not a puppet master"

"God is not in control, He is in charge; He has given us control"
What people hear:
"God is not supreme"

"God's hand is short"

"We are making God human"
What we mean:
We are saying that God is not in control, in the sense that He does not ordain and personally authorize every event that occurs on the planet. God is not in control of us. That does not mean he is unable to, it means that He has chosen to give us free will to choose whether we do His will or not.
God is not a puppet master pulling every little string. We are not saying that he is unable to step onto the stage and do what he wants. We are saying he has given everyone free choice.
If God is truly in control (in the sense that I described it), then His will must come to pass every time. It is clear that God desires all men to repent and come to saving faith (1 Tim 2:4, 2 Peter 3:9), yet everyday people are dying without putting their confidence in God. It is clear that we are called to serve God in holiness and righteousness all of our days (Luke 1:75), yet we are explicitly told we have the freedom to choose sin or righteousness (Galatians 5:13-14).
It's the mindset that we should chalk up sickness, death, and disaster to the "sovereignty of God" when Jesus said that it is the devil that steals, kills, and destroys (John 10:10), and Psalm 8:6 (Hebrews 2:8) says that God has put "all in subjection" under us.
Of course, God can work all things for the good of those who love Him and are called according to His purpose (Romans 8:28), we are not debating the fact that you can indeed learn something after being sick or being depressed or certain hardships and losses, but do not attribute the work of the devil to the work of God. Even the fact that God works things for the good shows that God didn't cause all things if He needs to work it for good.
It's the mindset that says, "Oh whatever happens will happen… His ways are mysterious, His ways are higher than ours…" when 1 Corinthians 2:10 says that He has revealed them (the deep things of God) to us by His Spirit, and Hebrews 1:1-3 says that Jesus is the expressed perfect representation of the Father.
It's the mindset behind constantly crying out for God to sovereignly move when it says that He is seated (Hebrews 10:12) and we are to step over the enemy (Romans 16:20, Luke 10:19).
It isn't that God's hand is short, it's the reality that we are His body, we are His fullness (Eph 1:22-23), and we are complete in Him (Col 2:8-10), so we do everything as sons who represent our Father (ambassadors).
back to the top
-

Tithing
What we say:
"Christians do not have to tithe; they are free from the requirement of tithing"
What people hear:
"Stop giving to ministries because they are evil and don't deserve your hard earned money"

"Stop giving"

"Don't be generous, hoard your money"
What we mean:
Christians are not bound to give 10% religiously. They are not cursed if they do not tithe.
If you free church-goers from the "requirement" of 10% giving, and they give less money, it shows that their hearts have not changed, because it is the nature of a believer to be generous because we have the nature of our Father.
Even when Jesus spoke about the widow's two mites and the pharisee's tithe, it wasn't about the amount that they gave, it was about their hearts. The reason why we preach against the requirement of tithing is no different than why we don't require people to pray or evangelize or worship. None of those things should ever become a religious requirement, but if someone's heart has been truly changed, those will be natural expressions of a transformed heart.
And the result is that you no longer religiously calculate 10% of every dollar you earn to make sure you give to your local church, but whenever you hear or see a need, you cheerfully give because you actually want to, instead of doing it because you need to fulfill your 10% requirement.
And then, there is joy in giving to the homeless, to widows in need, tipping waitresses extravagantly, because as we do to the least of these, we have done so to Him (Matthew 25:40).
Again, this is not to stop people from giving to local churches, but it is freeing people from a religious requirement that causes them to give under compulsion (2 Cor 9:7).
–> Read more here, and 1 | 2 | 3 | 4
back to the top
-

Led by the Holy Spirit
What we say:
"To be led by the spirit, do the bible"

"You don't need a leading to do what you have been commanded"

"You don't need a phone call from God when He has given you a letter"
What people hear:
"The Holy Spirit will never lead you externally"

"We don't need relationship with God"
What we mean:
The typical implication of being 'led by the spirit' is not quite what scripture depicts. It is true that there were moments that people were sovereignly 'led' by the Holy Spirit(Jesus to the wilderness, Philip and the Ethiopian, Paul), but it was not the norm (at least in the sense that most people talk about 'being led').
I am NOT saying that the Holy Spirit will not sometimes pull you aside and give you specific leadings, but what I am saying that this is not the case the majority of the time.
Read more here.
It is not about being completely independent from God. It's about moving past always needing to hold your parent's hand everywhere you go, and moving on to maturity to the point where you are able to make your own decisions and faithfully represent your Father and His heart in every circumstance without needing Him to give every little direction.
If you ever have children, it's expected and normal for them to come to you for instruction and direction, even if it is for little things and trivial matters. But if your teenager did that, or your college-age son/daughter did the same thing, you would rebuke them for not being mature.
So having children that grow up and mature doesn't mean that they never speak with their parents nor does it mean that they have a poor relationship with them. It means that they know who they are, and they know their parents, and if the parents have taught their children well, they can be trusted to make the right decisions that reflect well on behalf of the parents.
Related Posts: